You might think this topic does not apply to you since you do not ship any hazardous materials by vessel or over water.  Think again.  The requirements to properly identify a marine pollutant, record its presence on the shipping paper, and mark the container may apply to shipments by motor vehicle, rail car, or aircraft that never come close to water.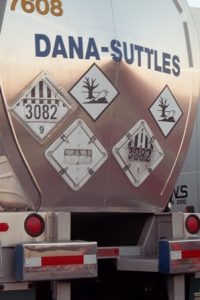 Note:
The information in this article applies solely to the classification of a marine pollutant subject to the U.S. regulations of the PHMSA/USDOT.  It is not to be used for international transportation by vessel or by air.
The definition of marine pollutants at 49 CFR 171.8 refers to Appendix B of the Hazardous Materials Table found at 49 CFR 172.101.  To be a marine pollutant and therefore subject to the regulations, two criteria must be met:
The material is listed in Appendix B to the Hazardous Materials Table, and;
If in a solution or mixture, the material is in a concentration of ≥10% for all materials listed or is ≥1% if identified as a severe marine pollutant.
So what is a severe marine pollutant?  It is those materials listed in Appendix B that contain the letters "PP" in column 1.
If the two above criteria are met, then you have a marine pollutant, but what are you to do with it?  49 CFR 171.4 excepts all non-bulk shipments of marine pollutants by motor vehicle, rail car, or aircraft from complying with the hazardous materials regulations.  In other words, if you are shipping a marine pollutant, you need only comply with the applicable regulations if…
Shipping by vessel over water, or;
In a bulk packaging by motor vehicle, rail car, or aircraft.
If your shipment contains a marine pollutant your only requirement is to insure that its presence is communicated on the shipping paper and the packaging, no other restrictions apply.
Shipping Paper per 49 CFR 172.203(l):
 If the marine pollutant is not identified by name in the proper shipping name, then its name must appear in (parenthesis) near the basic description.  If there are two or more marine pollutants in the material, then at least two of the most hazardous marine pollutants must be listed.
Shipments of a marine pollutant by motor vehicle, rail car, or aircraft that are also an oil subject to the requirements of 49 CFR 130.11 are not required to record the above information on the shipping paper if the material is identified as an oil in a phrase near the basic description.
 Markings per 49 CFR 172.322:
For shipment of a non-bulk packaging by vessel, refer to 49 CFR 172.322(a).
A shipment of a bulk packaging by motor vehicle, rail car, or aircraft must have the MARINE POLLUTANT mark on at least two opposing sides if the packaging has a capacity of <1,000 gallons or on all four sides if >1,000 gallons.  In either case, a marking the size of a placard (9.84″x9.84″) may be used.
The transport vehicle or freight container that contains a bulk packaging marked as indicated above must be marked with the MARINE POLLUTANT mark.  This marking must be the same size as a placard.
49 CFR 172.322(d) lists some situations where the MARINE POLLUTANT mark is not required.
Since 1.14.10 the MARINE POLLUTANT marking changed as indicated below.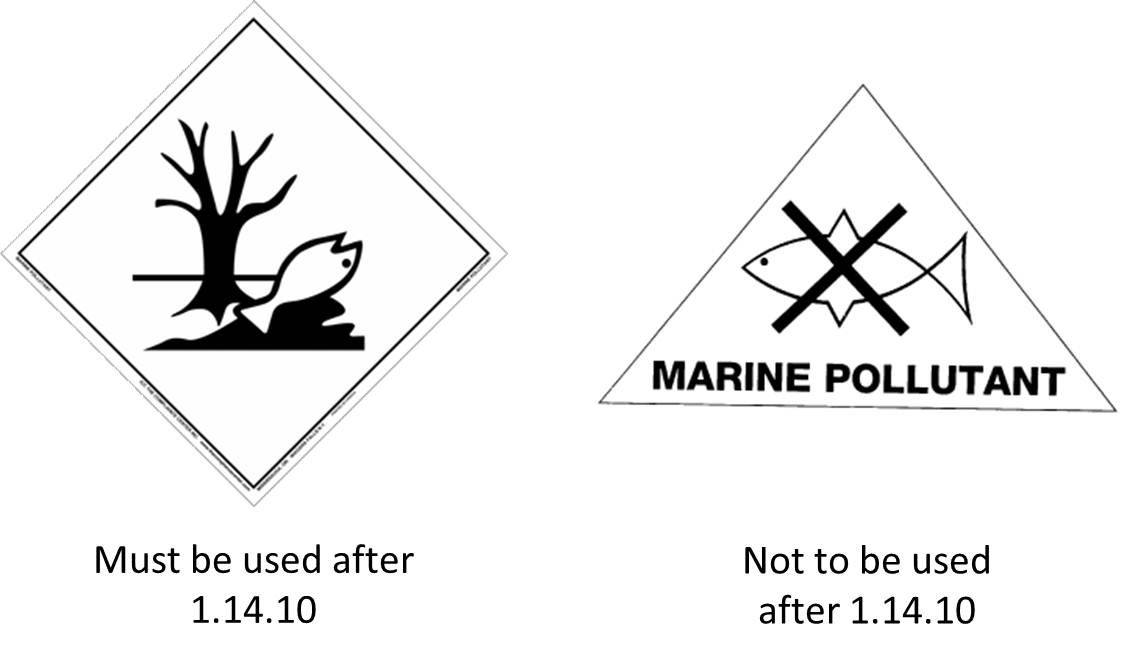 Contact me with any questions you may have about the transportation of hazardous materials by air, highway, vessel, or rail
International and Domestic
Daniels Training Services, Inc.
815.821.1550
The proper transportation of hazardous materials requires a full understanding of the Hazardous Materials Regulations and how they may apply to your operations.  Even a one-time shipment of a hazardous material may result in a violation if all the regulations of the HMR – including marine pollutants – are not followed exactly.  My training – either Onsite Training, Web-Based Training or some combination – is one way for you to learn about the Hazardous Material Regulations of the PHMSA/USDOT.