If you are involved with the transportation of hazardous materials/dangerous goods between the US and Canada or just interested in our neighbor to the north, you should be aware of the Dangerous Goods Regulations (DGR) of Transport Canada.  One way to maintain an awareness-level knowledge of the status of transportation regulations north of the border is to subscribe to the TDG Newsletter.
Begin by following this link to the TDG Newsletter page of the TC website, you'll see a screen that contains the latest TDG newsletter (Spring of 2013 as of this writing) and looks something like this: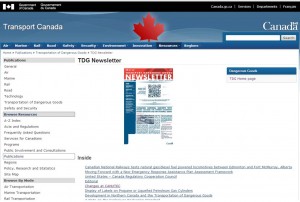 You may receive a paper version of the current Newsletter or request an issue published prior to 2003 by contacting Véronique Tessier at (613) 990-1157 or by email at veronique.tessier@tc.gc.ca.
Past issues of the TDG Newsletter are also available for viewing on this page.
To subscribe to the electronic version of the Newsletter, sign up by following this link:  http://wwwapps.tc.gc.ca/Comm/5/ListServ/Menu.aspx?lang=eng.  The page will look like this: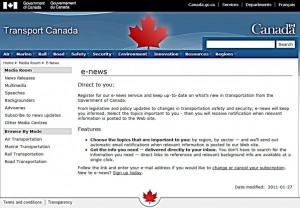 Click on "Sign up Today" at the bottom of the page, this will take you to a page where you will enter your email address (not shown).
You will then be taken to a page that looks like this: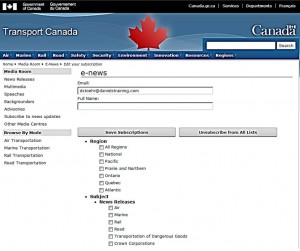 From this page select the Transport Dangerous Goods Newsletter under "Safety and Security Group" and you will be subscribed to the Newsletter.  While you're there select any other information that may be of interest; you may change your preferences or unsubscribe at any time.
You'll then receive an email from TC to confirm your subscription.  Click on the link in the email, and your done!
The transportation of hazardous materials (HazMat) or dangerous goods is an international business.  It's quite possible at some point a HazMat you either ship or receive is subject to the regulations of Transport Canada.  Luckily the regulations of Canada and the US are very similar and, with exceptions, both nations will accept compliance with each others' regulations as compliance with their own; read more about it here:  Transportation of Hazardous Materials Between US and Canada.
As always, please don't hesitate to contact me with any questions about the transportation of hazardous materials or dangerous goods.