A question from someone I have never done business with but who found me (04.07.17):
Our company is going to be transporting in a dry van, some equipment, It runs on diesel fuel. Are DOT placards necessary if they drain the tanks before transport? or maybe only have a few gallons max in the machines? We need to know what DOT regulations have to be followed here. Like I said, it would only be a few gallons, the rest would be drained before moving.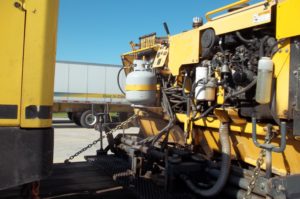 Any help is truly appreciated
Thank you,
My reply that same day:
Thank you for contacting me.  I will do my best to answer your question below:
Depending on its flash point, diesel fuel is a Class 3 Combustible Liquid per USDOT regulations when transported in commerce.
Any amount of a hazardous material remaining in a packaging – even vapors – is subject to USDOT regulation.  There are some exceptions from full regulation for non-bulk packagings.
Diesel fuel is subject to the Combustible Liquid Exception which excepts it from all USDOT regulation if it is in a non-bulk packaging.
If the tanks on the turf-installation equipment have a capacity of no more than 119 gallons they are non-bulk packaging.
Diesel fuel in a non-bulk packaging is not subject to USDOT regulations, therefore the tanks do not need to be rinsed and placards are not required.  No regulations of the USDOT apply.
I hope this helps.  Please don't hesitate to contact me with any other questions.
More information:

Contact me with any questions you may have about the transportation of hazardous materials by air, highway, vessel, or rail
International and Domestic
Daniels Training Services, Inc.
815.821.1550
Summary:
I get that question a lot.  For diesel fuel and other Class 3 Combustible Liquids it's a simple matter of whether the packaging in which they are contained is bulk or non-bulk.  If non-bulk, and a few other conditions, it is not a hazardous material.  If bulk, or one of those other conditions, then it's more complicated.
Contact me to help you sort out any question you may have about the transportation of diesel fuel, other Combustible Liquids, or any hazardous material.