I have learned that when it comes to the hazardous waste regulations codified under RCRA, California is different. And here is just one example of it: buried in the California Health and Safety Code at 25160.7 is a requirement for a hazardous waste generator or a TSDF to ensure, prior to loading hazardous waste on a vehicle, that the driver of the vehicle has a valid Commercial Driver's License (CDL) with the proper endorsement. Don't believe me? Read it for yourself:
25160.7. An authorized representative of the generator or facility operator that is responsible for loading hazardous waste into a transport vehicle shall, prior to that loading, ensure that the driver of the transport vehicle is in possession of the appropriate class of driver's license and any endorsement required to lawfully operate the transport vehicle with its intended load.
How can a California generator of hazardous waste comply with this requirement?  Well, one way is to ask to see the driver's CDL prior to loading his/her truck.  (I suggest documenting this procedure).  Another would be to obtain written confirmation from the motor carrier that all of their drivers have the proper CDL and endorsement.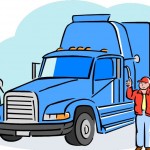 Read this article to learn what you should look for on the CDL and what endorsements may be found there:  What Information Must be on the Commercial Driver's License?
Remember that the definition of a hazardous waste in California is much more broad than the Federal.  A hazardous waste in California includes:  used oil, ethylene glycol antifreeze, corrosive solid, an expansive list of metals (e.g. copper, zinc, cobalt), asbestos, and much more.
Daniels Training Services
815.821.1550
Contact me if you have questions about the generation, management, or transportation of hazardous waste in California.