The placarding requirements for the transportation of hazardous materials can be very confusing.  Even during my years of driving a truck for Laidlaw Environmental Services I was often in doubt about placarding requirements.  I am frequently asked specific questions about placarding requirements where I must refer to 49 CFR 172, Subpart F for guidance.  Additional questions arise when one must determine the placarding requirement for bulk packagings instead of transportation vehicles.  49 CFR 172.514 is the section of the regulations that deals specifically with the placarding requirements of bulk packages and is the subject of this article.
Right at the beginning – 49 CFR 172.514(a) to be exact – the regulations make clear that it is the responsibility of the shipper and not the carrier to affix (eg. stick, attach, or fasten) the required placards to a bulk packaging.  This differs slightly from the placarding requirements for shipments of HazMat by highway found in 49 CFR 172.506 which require the shipper to provide the required placards to the driver of a motor vehicle (ie, carrier), but not to affix them.  More about the requirement of shippers to offer placards to a driver can be found here.
Contact me with any questions you may have about the transportation of hazardous materials by air, highway, vessel, or rail
International and Domestic
Daniels Training Services, Inc.
815.821.1550
Unless an exception for your HazMat packaging is identified in the regulations (see below), it must be placarded on each side and each end – all four sides.  If an exception exists for your bulk package you may use one of the following two options:
Affix the applicable placards on two opposing sides only.
Affix a HazMat Label on two opposite sides only per 49 CFR 172, Subpart E – specifically 49 CFR 172.406(e).
The excepted bulk packagings are as follows:
A portable tank with a capacity of <1,000 gallons.
A DOT 106 or 110 multi-unit tank car tank (railroad tank car designed to specifications).
Another bulk packaging – such as a bulk bag or box – with a capacity <640 cubic feet.  This does not include a portable tank, cargo tank, or tank car.
An Intermediate Bulk Container or IBC as defined at 49 CFR 171.8.  Read:  HazMat Labels, Markings, and Placards on an Intermediate Bulk Container
A Large Packaging as defined in 49 CFR 171.8.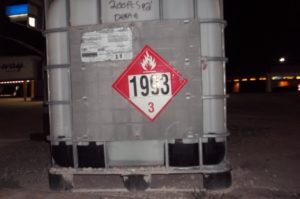 If a bulk packaging is not excepted and placarding is required, then the placards must remain even when it is empty unless it –
Is sufficiently cleaned of residue and purged of vapors to remove any potential hazard.
Is refilled with a different hazardous material to such an extent that the remaining residue is no longer hazardous.
It contains the residue of a Class 9 hazardous substance below the reportable quantity and any markings, labels, or placards indicating it is hazardous are removed, obliterated, or securely covered in transportation [49 CFR 173.29(b)(1)].
Contact me with any questions you may have about the generation, identification, management, and disposal of hazardous waste
Daniels Training Services, Inc.
815.821.1550
You may read more here about the requirements for shipping empty packages of hazardous materials.  You may also wish to learn much more about the Hazardous Material Regulations (HMR) of the US DOT and how they apply to you as a shipper of hazardous materials.  While you're at it you may also wish to learn more about your regulatory requirements under the US EPA as a generator of hazardous waste.