The regulatory requirement for training employees who work with or around hazardous waste or may respond to a hazardous waste emergency depends upon your hazardous waste generator status (take this quick survey to determine your hazardous waste generator status).  A brief summary of the applicable training requirements:
A large quantity generator of hazardous waste must train all facility personnel within 6 months of employment and annually thereafter [40 CFR 262.17(a)(7)].
A conditionally exempt small quantity generator of hazardous waste has no training requirement [§261.14].
A small quantity generator of hazardous waste is not specifically required to provide training to its facility personnel.  However, training may be necessary in order to comply with the applicable regulations [§262.16(b)(9)(iii)].
40 CFR 262.16(b)(9)(iii) reads:
The small quantity generator must ensure that all employees are thoroughly familiar with proper waste handling and emergency procedures, relevant to their responsibilities during normal facility operations and emergencies;
The regulations do not specify how the generator must "ensure" that all of their employees are "thoroughly familiar" with the relevant procedures for handling waste and for responding to emergencies.  Options include:
On-the-job experience,
Prior work experience,
Education,
Signs and labels to communicate information,
Work Instructions or SOP's that provide relevant guidance,
And training.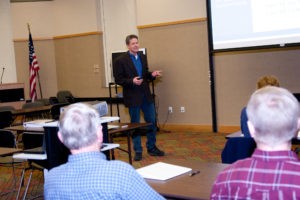 While not required it is assumed by the US EPA and state agencies that training will play a role – if not THE role – in complying with §262.16(b)(9)(iii) (RO11779).
Note:
As of the effective date of the Generator Improvements Rule on May 30, 2017 the Federal regulations referenced in this article changed from their previous location in the Code of Federal Regulations.
The regulations of your state may still refer to the original location of the Federal regulations at 40 CFR 262.34(d)(5)(iii).
There have been no other changes to the regulations for the training requirements of an SQG other than their location in the CFR.
It is also important to note that this regulation falls within the larger framework of an SQG's responsibility to respond to an emergency, sometimes known as the Small Quantity Generator's Basic Plan.  Therefore, your training must address the emergency response procedures your employees need to know relevant to their job duties.
Contact me with any questions you may have about the transportation of hazardous materials by air, highway, vessel, or rail
International and Domestic
Daniels Training Services, Inc.
815.821.1550
Even if you determine that training is not required you and your employees will benefit from learning what regulations are applicable to their job duties and how those regulations fit into the greater regulatory structure.
As always, please don't hesitate to contact me with your questions about RCRA training for small quantity generators of hazardous waste.