The primary mission of the Federal Motor Carrier Safety Administration (FMCSA) within the USDOT is to prevent commercial motor vehicle-related fatalities and injuries on US highways.  It does this through a variety of activities, one of which is to develop standards for the testing and licensing of commercial motor vehicle drivers.  Individual states have the option to exceed the requirements of the FMCSA in some areas, such as: medical, fitness, and other driver qualifications.  In addition, the administration of the Commercial Driver's License (CDL) program and the issuing of licenses is the exclusive responsibility of each individual state.  So…FMCSA sets the minimum standards for CMV driver testing and licensing and states have the authority to exceed these standards – only for drivers domiciled within their state – and the responsibility to administer the CDL program – again only for drivers living within their state.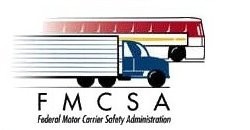 In addition to the CDL and pursuant to 49 CFR 383.25, states may issue a commercial learner's permits (CLPs) for the purpose of behind-the-wheel driver training on public roads or highways.  A CLP is considered a valid CDL for behind-the-wheel training purposes only, as long as the following conditions are met:
CLP holder is accompanied and directly observed by someone with a valid CDL appropriate for the class and type of vehicle being operated.
CLP holder has a valid driver's licensed from the same state that issued the CLP.
CLP holder has taken and passed a general knowledge test that meets the FMCSA standards for the CMV they operate or will operate.  This includes the applicable endorsements which are limited to:

'P' for passenger.  Note:  a CLP holder may not transport passengers other than auditors, inspectors, other trainees, & the CDL holder.
'S' for school bus.  Note:  a CLP holder may not operate a school bus with passengers other than auditors, inspectors, other trainees, & the CDL holder.
'N' for tank vehicle.  Note:  a CLP holder may only operate an empty tank and can't operate any tank vehicle containing the residue of a hazardous material.
No other Federal endorsements are allowed on a CLP.

CLP holder is 18 years old or older.
The CLP holder may not operate a CMV transporting a hazardous material as defined at 49 CFR 383.5.  Does this mean that the CMV operated by a CLP holder may have no hazardous materials?  No.  Read the FMCSA definition of a hazardous material to see why:
Hazardous materials means any material that has been designated as hazardous under 49 U.S.C. 5103 and is required to be placarded under subpart F of 49 CFR part 172 or any quantity of a material listed as a select agent or toxin in 42 CFR part 73.
So as long as it is not a select agent or toxin and placarding is not required per 49 CFR 172, Subpart F, it is possible for a CLP holder to transport a hazardous material in a CMV.
The CLP is valid for no more than 180 days from date of issuance.
There are a few more conditions, but those above are the main ones.  Be sure to read the full Federal regulations at 49 CFR 383.25 for yourself and check with your state to determine if their regulations are more strict.
Please note that the transportation in commerce of any hazardous material as defined by the Pipeline and Hazardous Materials Safety Administration (PHMSA) – another administration within the USDOT – requires HazMat Employee training for the operator of the motor vehicle within 90 days of employment and every three years thereafter.  This training must include an extra component on Safe Operation of a Motor Vehicle for drivers.  If you are interested in more information about HazMat Employee training for your drivers, I recommend the following:
Refer to the PHMSA definition of a hazardous material at 49 CFR 171.8.
Read my article on the Five Components of HazMat Employee Training.  It doesn't include the component for operators of a motor vehicle transporting HazMat.  For that, see below.
Daniels Training Services
815.821.1550
If after reading the above you still have questions, please don't hesitate to contact me for a free training consultation.