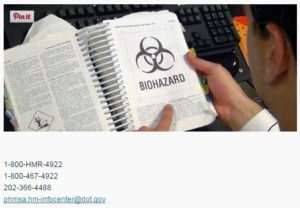 Compliance with the Hazardous Materials Regulations (HMR) of require access to them. Despite its intimidating size, likely you will only require knowledge of a small percentage of the entire HMR. Whatever your needs, below I have identified the parts and sections of the HMR with the most critical information. Be sure to bookmark these regulations for easy access.
Note: all of the below citations are found in Title 49 of the Code of Federal Regulations (49 CFR ***.***)
171.8 – Definitions.  Almost every term PHMSA thought worthy of definition.
172.101 Reference – UN & NA Lookup Tables.  This handy tool isn't found in the official CFR published by the Government Printing Office but if your publication provides it, tab it.
172.101 – Hazardous Materials Table.  By far the most important part of the HMR.  Take it a step further and bookmark the pages of the HazMat you routinely ship.
172.101, Appendix A, Table 1 – Hazardous Substances Other Than Radionuclides.
172.101, Appendix A, Table 2 – Radionuclides
172.101, Appendix B – List of Marine Pollutants.  Whether you ship by vessel, rail, highway, or even air, you must determine if any substance you ship contains marine pollutants above the regulated threshold.
172.102 – Special Provisions.  An explanation of the codes found in column 7 of the Hazardous Materials Table.
172, Subpart C – Shipping papers.  Whether you use a bill of lading, uniform hazardous waste manifest, or some other shipping paper, you'll find the requirements for its completion here.
172, Subpart D – Marking.  The requirements for package marks on both bulk – this includes cargo tank trucks and rail tank cars – and non-bulk packagings.
172, Subpart E – Labeling.  The labeling requirements for non-bulk packagings (mostly) and some options for labeling of bulk packagings.
172, Subpart F – Placards. Placards are usually displayed on vehicles but may sometimes be required on bulk packagings that themselves are loaded into or on vehicles.
172, Subpart G – Emergency Response Information.  An identification and description of the two types of emergency information the shipper must provide to the carrier.
172, Subpart H – Training.  The responsibility of a HazMat Employer to provide initial and triennial training for their HazMat Employees.  Read: HazMat Employee Training
172, Subpart I – Safety and Security Plans.  Is your facility subject to the requirement to have a Safety and Security Plan and to provide In-Depth Security Training?  This subpart identifies applicability and explains the requirements.
Contact me with any questions you may have about the transportation of hazardous materials by air, highway, vessel, or rail
International and Domestic
Daniels Training Services, Inc.
815.821.1550
173.2 – Hazardous materials classes and index to hazard class definitions.  Every hazardous material must meet the definition of at least one hazard class, or division of a hazard class.
173.2a – Classification of a material having more than one hazard.  Critical if you ship any solutions or mixtures not identified in the Hazardous Materials Table that have more than one potential hazard.  Unnecessary if you don't.
174 – Carriage by Rail.  Applicable to rail carriers but of interest to those who ship HazMat by rail.
175 – Carriage by Aircraft.  This part is applicable to some helicopter operations.  It is largely superseded by the Dangerous Goods Regulations of the International Air Transport Association (IATA).
176 – Carriage by Vessel.  An option for carriers of HazMat by vessel within U.S. territorial waters.  Another option is the International Maritime Dangerous Goods Code.
177 – Carriage by Highway.  Includes load securement and segregation requirements that may be applicable to a shipper of HazMat.
178 – Packaging Specifications.  The requirements for design, testing, manufacture, and marking of packagings to meet either a United Nations or USDOT specification.  Almost all of them.  The specifications for rail tank cars are found in 179.
That should be a good start.  As you become more familiar with the HMR you may find it useful to bookmark other pages or eliminate some entirely.