The Hazardous Material Regulations of the PHMSA/USDOT at 49 CFR 172.704(a)(4) mandate Security Awareness Training be provided to all HazMat Employees with their initial and triennial HazMat Employee Training.  This training should provide an awareness of security risks associated with HazMat transportation and methods designed to enhance transportation security. It must also include a component covering how to recognize and respond to possible security threats.  The purpose of this article is to provide suggested content for Security Awareness Training for HazMat Employees who operate a motor vehicle over a public roadway.  Hijackers may target trucks, buses, or other commercial motor vehicles for the cargo they contain, but also for the vehicle itself.  A stolen vehicle may be used for some other illegal purpose or for terrorist activities.  Topics to address in HazMat driver Security Awareness Training include:
Know your route.  A HazMat driver should plan their route ahead of time, identifying possible security high risk areas (e.g. secluded or isolated areas), alternate routes, and the location of all scheduled stops.  This will also allow for the creation of predetermined checkpoints with your dispatcher.
Don't rely on your GPS.  Technology  may fail.  Identify a back up plan or bring a map (remember those?)
Identify safe areas.  If you are targeted it will be critical to know where you can go to obtain safety (e.g. police stations, highway patrol offices).
Park safe.  Only park in secure, well lit areas.  Only stop in designated rest areas where other trucks are parked.
Stay in touch with dispatch.  Carry a 24-hour emergency telephone number at all times.
Know the cargo.  Your HazMat Employee training should provide you with the tools and the knowledge to identify the potential hazardous of your cargo.
Check the load.  Check your load whenever possible and compare it to the quantity and container types indicated on the shipping paper.
Alternate your route.  Don't be predictable.  While considering other factors, try to avoid using the same route all of the time.  Don't stop at the same places every time, even if the buffet is fantastic.
Stay on your route.  While alternating your route is a good idea, don't deviate from a planned route without informing your dispatch.
Keep moving.  There is safety in motion.  Try and keep your vehicle moving as long as you can do so safely.
Keep your vehicle locked.  Lock the vehicle every time you make a stop.  Keep the trailer unit locked from the moment it is loaded until delivery to its destination.  Keep the vehicle unlocked for as short a period as possible when stopping to eat or rest.
Stay alert.  Be aware of your surroundings.  Watch for suspicious activities such as a vehicle that appears to be following you or seeing the same vehicle frequently.
Never pick up a hitchhiker.
Stay with your vehicle/cargo.  Don't leave your vehicle unattended at the delivery point or customer's dock.
Keep identifying information with you.  Keep any information that will aid law enforcement in retrieving your truck or trailer, if stolen, on your person.  This includes:

Vehicle number.
Trailer number.
License plate number.
Vehicle Identification Number (VIN)
Remember, Driver Training is required for a person who operates a motor vehicle over a public roadway transporting any amount of a hazardous material – unless specifically excepted by regulation.  Security Awareness Training is required for any HazMat Employee along with the following components:
Contact me with any questions you may have about the transportation of hazardous materials by air, highway, vessel, or rail
International and Domestic
Daniels Training Services
815.821.1550
Contact me if you have any questions about HazMat transportation security or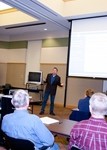 the training requirements of the PHMSA/USDOT for HazMat Employees.
Source:  Transportation Security Administration:  Trucking Counterterrorism Guide