A former coworker contacted me with a question on January 29, 2016:
I have a quick question for you Dan.  If a facility has 5 – 6 consumer (car type) lead-acid batteries that they want to take to a salvage yard for recycling, is there a DOT exemption or something that keeps them from being classified as a hazardous substance.  I think they need to transport with shipping papers and be properly labeled.  Let me know if you have any experience with this.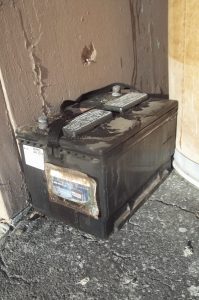 Thanks,
I had time to fire off a reply that day:
Please note below:
When discarded by recycling a liquid lead acid battery will be a hazardous waste per USEPA regulations.
Liquid lead acid batteries sent for reclamation are excluded from regulation as a hazardous waste per 40 CFR 266.80.
A liquid lead acid battery is a hazardous material per USDOT regulations.
A liquid lead acid battery that is not a hazardous waste may be transported by a non-transportation business under the Materials of Trade exception at 49 CFR 173.6.
The following is required under the Materials of Trade exception:

Secure batteries in vehicle.
Label batteries.
Likely batteries contain a Reportable Quantity (RQ) for lead, so this must be marked on the side.
Inform driver of Materials of Trade exception and some basic worker safety.
No more than 66 lbs/battery & no more than 440 lbs of HazMat in the vehicle.
FYI:  Even though this situation does not require
HazMat Employee training
, the fact that they receive hazardous materials makes them subject to the training requirements.  They may also need
RCRA training
.
Note from Daniels Training Services:

My reply does not take into account the exception from regulation available to shippers of batteries found at 49 CFR 173.159(e).
Questions like this come into me all the time.  Sometimes they can be answered simply.  Sometimes more time and research is required.  Either way, I'm happy to answer any questions you may have about the transportation of hazardous materials or the generation and management of hazardous waste.
Daniels Training Services
815.821.1550