The regulations of the Federal Motor Carrier Safety Administration (FMCSA) apply to the motor carrier (employer), driver (employee), and operation of a Commercial Motor Vehicle.  Among the regulations of the FMCSA, at 49 CFR 392 & §396, are those that require the regular, and sometimes documented, inspection of a CMV.  These regulations, like a lot of others, have become shrouded in confusion, resulting in a mistaken belief that a documented pre- and post-trip inspection is required of all CMVs.  The purpose of this article is to explain the requirements for a motor carrier and driver to conduct inspections of a commercial motor vehicle in compliance with the Federal Motor Carrier Safety Regulations (FMCSR).
As noted in an earlier article, the FMCSR define a commercial motor vehicle differently at separate locations within the regulations depending on applicability, (read:  The Transportation of HazMat and the Regulations of the PHMSA and FMCSA).  For the purposes of parts 392 & 396 and this article, however, a commercial motor vehicle is one that:
Has a gross vehicle weight rating, gross combination weight rating, gross vehicle weight, or gross combination weight of 10,001 pounds or more (whichever is greater).
Is designed or used to transport more than 15 passengers (including the driver) without compensation, or more than 8 passengers (including the driver) for compensation, or;
Transports a placardable amount of hazardous materials (refer to 49 CFR 172.500 & §172.504).
49 CFR 392 – Driving of Commercial Motor Vehicles: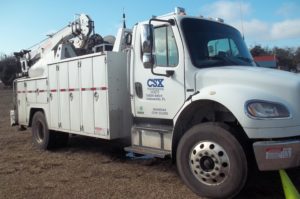 We'll begin with the requirements of 49 CFR 392, which apply to both the motor carrier and the driver, but include a specific reference to the responsibility of the driver.  §392.7 requires the driver to ensure that the specified parts and accessories of a CMV are in good working order prior to being driven (ie. pre-trip) and to make use of them as needed:
Service brakes, including trailer brake connections
Parking (hand) brake
Steering mechanism
Lighting devices and reflectors
Tires
Horn
Windshield wiper or wipers
Rear-vision mirror or mirrors
Coupling devices
§392.7 does not refer to this as a "pre-trip inspection" nor does it require documentation.
§392.7 goes on to require the driver to conduct an inspection (here the word "inspection" is used) of specified components of intermodal equipment and be satisfied they are in good working order prior to operation over the road (ie. pre-trip):
Service brake components that are readily visible to a driver performing as thorough a visual inspection as possible without physically going under the vehicle, and trailer brake connections.
Lighting devices, lamps, markers, and conspicuity marking material.
Wheels, rims, lugs, tires.
Air line connections, hoses, and couplers.
King pin upper coupling device.
Rails or support frames.
Tie down bolsters.
Locking pins, clevises, clamps, or hooks.
Sliders or sliding frame lock.
Though §392.7 does not require documentation, a motor carrier or driver may wish to document this as part of a Pre-Trip Inspection in order to demonstrate compliance.
Similarly, §392.8 requires the driver to be satisfied that the emergency equipment required by §393.95 is in place and ready for use.  Driver must also make use of such equipment if needed.  Once again, this is not a documented "pre-trip inspection".
Contact me with any questions you may have about the transportation of hazardous materials by air, highway, vessel, or rail
International and Domestic
Daniels Training Services, Inc.
815.821.1550
Finally, §392.9 requires the driver  and the motor carrier to ensure:
The cargo is properly distributed and adequately secured as specified in §393.100 through 393.136 .
The vehicle's tailgate, tailboard, doors, tarpaulins, spare tire and other equipment used in its operation, and the means of fastening the commercial motor vehicle's cargo, are secured.
Nothing (cargo or any other object) obscures the driver's view or interferes with driver's movement, access to emergency equipment, or exit from the vehicle.
The driver must re-inspect the load's securement at a specified frequency during transportation.
§392.9 exempts the driver  from all inspection requirements in the case of:
A sealed vehicle the driver has been ordered not to open.
A vehicle that has been loaded in a manner that makes inspection of its cargo impracticable.
49 CFR 396 – Inspection, Repair, and Maintenance:
40 CFR 396 requires the motor carrier and intermodal equipment provider to systematically inspect, repair, and maintain all motor vehicles and intermodal equipment subject to its control in order to ensure parts and accessories are in safe and proper operating condition at all times. "Parts and accessories" are those specified in §393 and any additional parts and accessories which may affect safety of operation, including but not limited to:
Frame and frame assemblies.
Suspension systems.
Axles and attaching parts.
Wheels and rims.
Steering systems.
A motor carrier that has control of a vehicle for more than 30 consecutive days must keep a record of inspections and maintenance as specified in §396.3.
Though §396.3 refers to systematic inspection, repair, and maintenance, the determination of the frequency of these activities is left to the motor carrier based upon its operations.
The vehicle inspection requirements of §396.11, 396.13, & 396.17, as outlined below, are in addition to those of §396.3.
Pursuant to §396.11 a motor carrier must require its drivers to prepare a written Driver's Vehicle Inspection Report (DVIR) whenever a defect is discovered by or reported to the driver or when company policy requires it.  A DVIR is not required for single-vehicle operations; that is, if a motor carrier operates only one vehicle.  Note:  It is recommended that a DVIR be completed every day (post-trip) whether a defect is discovered or not.
The DVIR shall cover at least the following parts and accessories:
Service brakes including trailer brake connections
Parking brake
Steering mechanism
Lighting devices and reflectors
Tires
Horn
Windshield wipers
Rear vision mirrors
Coupling devices
Wheels and rims
Emergency equipment
If you like this article, please share it using any of the social media platforms identified at the bottom of this article.
You'll look real smart recommending my articles!
The DVIR must include the following:
Signature of driver.
Date of inspection.
Vehicle identification.
Any defect or deficiency discovered by or reported to the driver which would affect its safety of operation or result in its mechanical breakdown.
An indication that no defects were found, if that is the case.
Defects and deficiencies which may affect the safe operation of the vehicle must be repaired by the motor carrier before the vehicle may be returned to operation and the repair noted on the original report.  The lack of any defect or deficiency in the vehicle must also be reported.  Note, that this documented, post-trip report does not require an inspection of the vehicle, though a Post-Trip Inspection is one way that a driver can discover a defect or deficiency in the vehicle.  The motor carrier must maintain the original driver vehicle inspection report, the certification of repairs, and the certification of the driver's review for at least three months from the date the written report was prepared.  It is not a requirement that drivers carry a copy of the DVIR in their vehicle.
§396.13 requires a driver, before driving a motor vehicle, to:
Be satisfied the motor vehicle is in safe operating condition.
Review the last driver vehicle inspection report (ie. the post-trip driver report explained above).
Sign the last driver vehicle inspection report, if it includes defects or deficiencies, to acknowledge that the driver has reviewed it and that there is a certification that the required repairs have been performed.
Though §396.13 does not require documentation, a motor carrier or driver may wish to document this as part of a Pre-Trip Inspection in order to demonstrate compliance.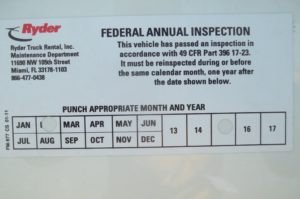 Finally, §396.17 requires a motor carrier or intermodal equipment provider to conduct periodic inspections (at least one every 12 months) of vehicles or equipment subject to their control.  The inspection must be documented and include, at a minimum, the parts and accessories specified in Appendix G to §396.  This is a more thorough vehicle inspection than has been required by previously cited regulation, and will include an inspection of:
Brake system
Coupling devices
Exhaust system
Fuel system
Lighting devices
Safe loading
Steering mechanism
Suspension
Frame
Tires
Wheels & rims
Windshield glazing
Windshield wipers
Daniels Training Services, Inc.
815.821.1550
So there you have it.  Though reference to inspections and maintenance is made throughout the regulations, there is no reference to a documented Pre-Trip Inspection by the driver of a CMV.  Nor is there a requirement for a documented Post-Trip Inspection, though the driver "end-of-day" report of §396.11 comes close.  As a motor carrier and/or driver, you must decide what you will do to comply with the FMCSRs.
In addition, the regulations of the Pipeline and Hazardous Materials Safety Administration (PHMSA) require training for any person who operates a motor vehicle transporting any amount of hazardous material.  Contact me if you require training for your drivers; I'll work with you to deliver just the training you need in a way that fits your busy schedule.