When the US Congress passed the Resource Conservation and Recovery Act (RCRA) on October 21, 1976 it did not identify hazardous waste.  Instead it required the USEPA (founded December 2, 1970) to identify a hazardous waste (either by meeting a listing definition or by its characteristics) and ensure its cradle-to-grave management to prevent harm to human health and the environment.  On December 18, 1978 USEPA responded to this mandate by proposing regulations for the management of hazardous waste under Subtitle C of RCRA.  At this time it also proposed that certain wastes – six (6) categories of them – be deferred from management as a hazardous waste until further study could be conducted to determine the actual risk they posed to human health and the environment.  This deferral was believed justified since the wastes, which came to be known as "Special Wastes", were generated in large quantities and were believed – at the time – to pose less risk to human health and the environment than the hazardous wastes for which cradle-to-grave regulation was proposed.  The "Special Wastes" proposed by USEPA were: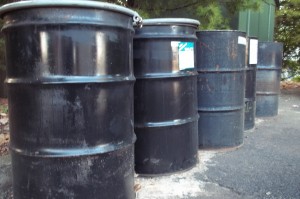 (Refer to the link for each of the above for more information regarding that Special Waste.)
With the ball back in their court, on October 12, 1980 the US Congress passed the Solid Waste Disposal Act Amendments of 1980. Among other changes to RCRA, the SWDA Amendments now exempted from regulation as a hazardous waste the Special Wastes identified by the USEPA in 1978.  The exempted wastes became associated with the Congressmen who sponsored the amendments and thus came to be known as the Bentsen and Bevill wastes on behalf of Senator Lloyd Bentsen and Representative Thomas Bevill, respectively.  Their amendments applied as follows:
The Bevill Amendment—fly ash waste, bottom ash waste, slag waste, and flue gas emission control waste generated primarily from the combustion of coal or other fossil fuels; solid waste from the extraction, beneficiation, and processing of ores and minerals, including phosphate rock and overburden from the mining of uranium ore; and cement kiln dust.  Encompassing the USEPA Special Wastes:  Cement kiln dust; Mining waste, Phosphate rock mining, beneficiation, and processing waste, Uranium waste, & Utility waste (i.e., fossil fuel combustion waste).
The Bentsen Amendment—drilling fluids, produced waters, and other wastes associated with the exploration, development, and production of crude oil or natural gas or geothermal energy.  This amendment corresponded to the USEPA Special Waste for: Oil and gas drilling muds and oil production brines.
So…
USEPA Special Waste  ≡ Bentsen and Bevill Waste
While the exemption lasted, the USEPA was required to complete a full assessment of each Special Waste and submit a formal report to Congress on its findings. The USEPA was given specific requirements for each Special Waste study and deadlines were established for submission of the final reports.  After completion of each respective final report (aka: "Report to Congress"), USEPA had six months to determine if the Special Waste in question should be managed as a hazardous waste.
USEPA issued a Report to Congress for each Special Waste between 1988 and 2002 and the final regulatory determinations have been made.  With limited exceptions, the agency determined that regulation under Subtitle C was not warranted for the Bentsen and Bevill Wastes/Special Wastes.  This then required the revision of Federal regulations in order to exclude, with conditions, the Special Waste from regulation as hazardous waste.  These conditional exclusions can be found today at 40 CFR 261.4(b), and look like this:
40 CFR §261.4(b) – Solid Wastes Which Are Not Hazardous Waste
§261.4(b)(1) Household Hazardous Waste
§261.4(b)(2) Agricultural Waste
§261.4(b)(3) Mining Overburden
§261.4(b)(4) Fossil Fuel Combustion Waste (Bevill Amendment)
§261.4(b)(5) Oil, Gas, and Geothermal Wastes (Bentsen Amendment)
§261.4(b)(6) Trivalent Chromium Wastes
§261.4(b)(7) Mining and Mineral Processing Wastes (Bevill Amendment)
§261.4(b)(8) Cement Kiln Dust (Bevill Amendment)
§261.4(b)(9) Arsenically Treated Wood
§261.4(b)(10) Petroleum Contaminated Media & Debris from Underground Storage Tanks
§261.4(b)(11) Injected Groundwater
§261.4(b)(12) Spent Chloroflurocarbon Refrigerants
§261.4(b)(13) Used Oil Filters
§261.4(b)(14) Used Oil Distillation Bottoms
§261.4(b)(15) Landfill Leachate or Gas Condensate Derived from Certain Listed Wastes
§261.4(b)(17) Project XL Pilot Project Exclusions
§261.4(b)(18) Disposable Solvent-Contaminated Wipes (not Trichloroethylene)
Training Services I provide for HazMat Employees & Hazardous Waste Personnel:
So now you're thinking, "Wait.  There are six USEPA Special Wastes.  Yet, their are only four RCRA conditional exclusions identified at 40 CFR 261.4(b).  What gives?"  The answer is that three of the original Special Wastes:  Mining waste; Phosphate rock mining, beneficiation, and processing waste; and Uranium waste are wrapped up into one exclusion:  §261.4(b)(7) Mining and Mineral Processing Wastes; which reflects how they were addressed in the Bevill Amendments of 1978.
So that settles it, right?  Well, not exactly…
Two original members of the USEPA Special Wastes that were converted into conditional exclusions at 40 CFR 261.4(b) have more recently come under increased scrutiny due primarily to two potential threats to human health and the environment that were not anticipated or investigated in the earlier Reports to Congress:
The volume of generation.
Higher levels of toxicity.
Daniels Training Services
815.821.1550
The two wastes that are the subject of recent controversy:
What's next for these Bentsen and Bevill wastes?  Stay tuned.
Remember, Special Wastes, though conditionally excluded from being a hazardous waste, remain a solid waste subject to State regulation under Subtitle D of RCRA.
Contact me if you have any questions about Special Wastes, or for a free RCRA Training Consultation.