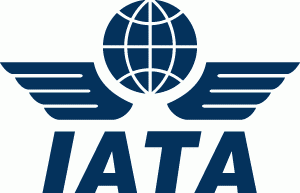 The 57th Edition of the Dangerous Goods Regulations (DGR) of the International Air Transport Association (IATA) specifies the requirements for, and exclusions from use of, package orientation arrows on certain packages of dangerous goods when transported by air.
The IATA DGR is a creation of the airline industry.  It is based on - and in some instances more strict than - the Technical Instructions of the International Civil Aviation Administration.  Compliance with the IATA DGR is required for most dangerous goods transportation by air for both domestic and international transportation.
The purpose of this article is to explain the use of package orientation arrows – and the conditions when they are not required – as regulated by the 57 Edition of the IATA DGR at 7.2.4.4 and 5.0.2.13.3.
Make certain you are referring to the current edition of the IATA DGR for compliance.  The 57th Edition is effective only for calendar year 2016 (January 1, 2016 to December 31, 2016).
Package orientation arrows, or as they are referred to in the DGR: "Package Orientation " (This Way Up) labels, are required – with some exclusions – on only two types of packaging, and then, only if they contain liquid dangerous goods:
Combination packaging
Overpack
The requirement for an overpack with liquid dangerous goods to display orientation arrows differs slightly from that of the USDOT/PHMSA which only requires orientation arrows on an overpack if it contains packagings that are required to display orientation arrows.  Read:  Orientation Arrows on HazMat Packaging.
REQUIREMENTS FOR DISPLAY OF PACKAGE ORIENTATION LABELS:
Must meet the specifications of Figure 7.4.D or Figure 7.4.E of the DGR (see below).
Must be displayed on two opposite sides of the package or overpack.
Must show the proper package orientation for the closures of the inner packaging to be in the upright position.
From 7.4.4 and 7.4.5:

Minimum dimensions:  74 x 105 mm
Color:  Red (Pantone Color No. 186U) or Black on a contrasting background
Figure 7.4.D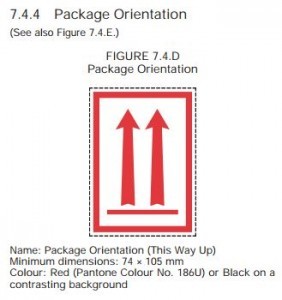 Figure 7.4.E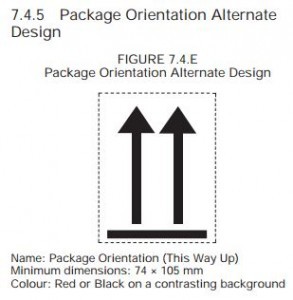 ADDITIONAL OPTIONS FOR DISPLAY OF PACKAGE ORIENTATION LABELS:
The words "Dangerous Goods" may be inserted below the line at the bottom of the label.
The words "THIS END UP" of "THIS SIDE UP" may also be displayed on the top of the package or overpack.
PACKAGE ORIENTATION LABELS ARE NOT REQUIRED ON THE OUTER PACKAGING OF COMBINATION PACKAGINGS CONTAINING:
Inner packagings each of 120 mL or less if there is sufficient absorbent material between the inner and outer packagings to completely absorb the liquid contents.
Inner packagings of 500 mL or less that are gas tight such as:  tubes, bags, or vials and that are opened by breaking or puncturing.
Division 6.2 Infectious Substances in primary receptacles of 50 mL or less.
Hazard Class 7 Radioactive.
The above exclusions only apply to combination packaging.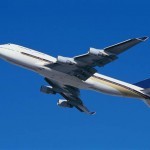 An Operator may have their own variations to the IATA DGR
ARE WE DONE?  NO.  WE STILL MUST CONSIDER STATE AND OPERATOR VARIATIONS:
Paragraph 2.8.0 of the DGR reads:
States and operators may submit variations to these Regulations.  These variations are listed in 2.8.2 and 2.8.4 respectively.
States (that's nations to you and I) and operators (them that fly the planes) may manage dangerous goods transportation differently than the DGR.  Under certain conditions these variations have the same force as the DGR themselves.  The regulations pertaining to Package Orientation labels have three Operator Variations to consider:
ME-09 for Middle East Airlines:  Package orientation (This Way Up) labels must be used on any combination and single packaging containing dangerous goods (See 5.0.2.13.3 and 7.2.4.4).
SV-04 for Saudi Arabian Airlines:  Package Orientation (THIS WAY UP) labels must be used on any combination and single package containing liquid dangerous goods, excluding Infectious Substances if primary receptacles contain less than 50 mL and Radioactive Material (See 5.0.2.13.3 and 7.2.4.4).
VT-07 for Air Tahiti:  All dangerous goods packages must show the package orientation label ("This way up" label) and two hazard label(s) on two opposite sides (see 7.2.4.4).
A shipper of dangerous goods must comply with these operator variations only if said operator is used for the transport of dangerous goods.
Contact me with any questions you may have about the transportation of hazardous materials by air, highway, vessel, or rail
International and Domestic
Daniels Training Services
815.821.1550
If the transport of your dangerous goods (aka: hazardous materials) is to be transported by air you must comply with the regulations of the International Air Transport Association.  Learn what you need to know to ship dangerous goods by air and meet the biennial (every two years) training requirement of IATA for shippers and packers of dangerous goods (found at subsection 1.5 of the DGR) by scheduling my Onsite Training.