Here's a question I received through my website:
Good afternoon, I was wondering if you could tell me if a CDL driver needs a HAZ-Mat endorsement to haul asbestos, either friable or Non-friable?

Thank you,
My response:
Asbestos is listed as a hazardous material (Class 9 Miscellaneous) in the Hazardous Materials Table at 49 CFR 172.101.
Special Provision 156 in column 7 of the Table reads as follows:
 Asbestos that is immersed or fixed in a natural or artificial binder material, such as cement, plastic, asphalt, resins or mineral ore, or contained in manufactured products is not subject to the requirements of this subchapter.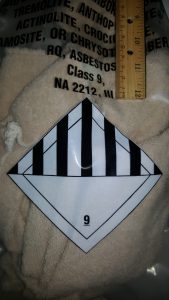 Though the terms friable and non-friable are not used, it seems clear that PHMSA/USDOT is saying that a non-friable form of asbestos is not regulated as a hazardous material, whereas a friable form is.
However, just because it is a hazardous material doesn't necessarily mean the driver needs the HazMat endorsement on their CDL.  The HazMat endorsement is required on the CDL when the vehicle transports an amount of hazardous material that requires placarding (
More…
)  In the U.S., a vehicle transporting only Class 9 Miscellaneous is not required to be placarded (
More…
)  Therefore, a driver of a motor vehicle transporting only Class 9 is not required to have the HazMat endorsement on their CDL.
The driver and anyone else who handles friable asbestos in transportation (e.g. loading, unloading, operating motor vehicle, preparing shipping papers, packaging for transport, etc…) is a HazMat Employee and requires initial and triennial HazMat Employee training as required by the PHMSA/USDOT (this is distinct from OSHA training).
I can provide the training you require.
Please don't hesitate to contact me with any other questions.
Dan
Contact me with any questions you may have about the transportation of hazardous materials by air, highway, vessel, or rail
International and Domestic
Daniels Training Services, Inc.
815.821.1550