If you do business in Delaware, then staying tuned-in to the activities of the Department of Natural Resources and Environmental Control is a must.  Thankfully, the DNREC assists the regulated community in this by publishing a biweekly update of what its up to in the form of an electronic newsletter:  Division of Air & Waste Management Newsletter (DAWM Newsletter).  It features current information on the Divisions of Air Quality, Waste and Hazardous Substances, and Water regarding public meetings, workshops, hearings, and regulatory documents available for public comment, as well as general news updates.
The subscription is free.
To subscribe, follow this link to the DNREC list of its newsletters, publications, and other communications:  http://www.dnrec.delaware.gov/Pages/DNRECLists.aspx
It looks like this: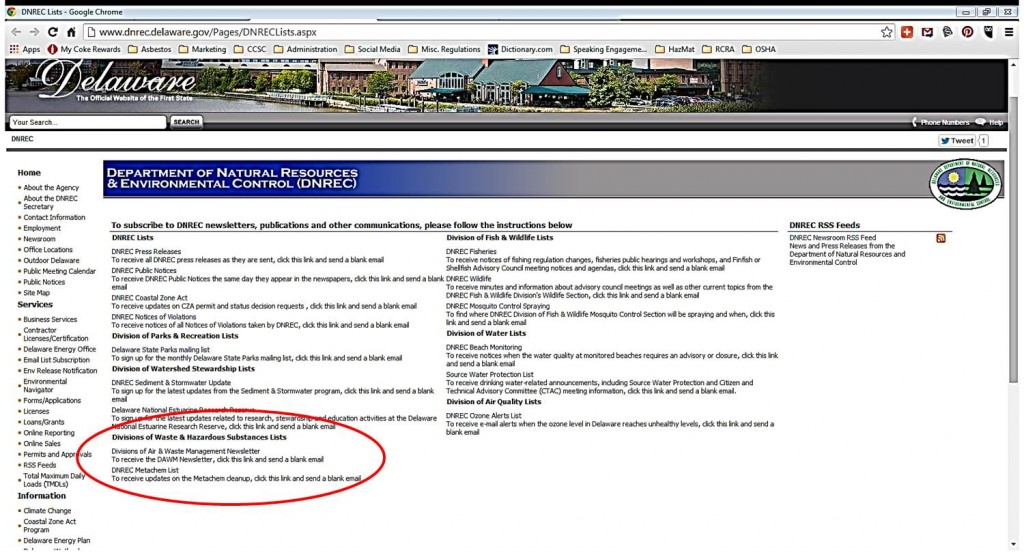 There are many lists and publications to choose from, consider them all; but the purpose of this article is to direct you to the Divisions of Waste and Hazardous Substances List in the bottom left-hand corner (circled in red).  Just click on the link and it will open your default email software.  Send a blank email and your done.
If you have any questions you may call Stacy Jones  at 302-739-9400, or send an email to Stacy.Jones@state.de.us
Visit the Delaware DNREC website at: www.awm.delaware.gov
My Onsite Training is a great way to train all of your Hazardous Waste Personnel on the DNREC regulations regarding the management of hazardous waste.  Training that covers just what you need to know!  Contact me for a free training consultation.
Daniels Training Services
815.821.1550