The transportation by air of hazardous materials – dangerous goods in the parlance of most of the international community – will likely require compliance with the Dangerous Goods Regulations of the International Air Transport Association (IATA).
The term "Shipper" is used in the IATA DGR in a similar manner as it is in the Hazardous Material Regulations of the USDOT/PHMSA: a Shipper is one who offers a dangerous good for transportation to an Operator – the person or business who operates the aircraft – who is a Member or associate Member of IATA or party to the IATA Multilateral Interline Traffic Agreement – Cargo.
The purpose of this article is to summarize and explain the requirements of a Shipper under the IATA DGR as detailed in Subsection 1.3 Shipper's Responsibilities.
First of all, it is made clear that the Shipper must comply fully with the IATA Dangerous Goods Regulations and any applicable State or Operator variations when offering dangerous goods for transportation by air.
Specific responsibilities of the Shipper prior to offering any package or overpack of a dangerous good for air transport are found in Paragraph 1.3.2 of the IATA DGR and summarized below, they include.
Provide information to employees so they know how to prepare dangerous goods for air transport in compliance with the IATA DGR.  Note that this information is in addition to the training required by Subsection 1.5 which is explained below.
Ensure that the articles or substances are not identified as "forbidden" at either Subsection 2.1 or Subsection 4.2 and therefore prohibited from air transport.
Articles or substances must be properly identified, classified, packed, marked, labelled, documented and be in proper condition for transport as specified in the IATA DGR.  This one requirement seems to say it all, "identified, classified…" but the list goes on into more specifics.
Before a consignment of dangerous goods is offered for air transport, all relevant persons – including those who are not employees of the Shipper but perform shipping services on their behalf – involved in its preparation must have received training to enable them to carry out their responsibilities, as detailed in Subsection 1.5.
Dangerous goods must be packaged in compliance with all applicable air transport requirements including:

Comply with the maximum quantity limits for both inner and outer packaging that may be established by the IATA DGR or by the packaging manufacturer.
Select the appropriate types of packaging according to the packing instructions of Section 5.
Comply with other applicable requirements in the packing instructions of Section 5, including:

Single packagings may be forbidden.
Use only the inner and outer packagings that are permitted.
Determine if inner packaging need to be packed in intermediate packagings which function between inner and outer packaging.
Determine if a higher performance level for the packaging is required for certain dangerous goods.

Identify and comply with appropriate closure procedures for inner and outer packagings.  It should not come as a surprise that the closure requirements for air transport are much more strict than by other modes.  An example of this are the requirements at Subparagraph 5.0.2.7 Temperature and Vibration Resistance that, among other things, require secondary means of closure for liquid inner packagings.
Ensure that the packaging is compatible with the dangerous good it contains.  Compatibility requirements are specified in the applicable packing instructions and in Subparagraph 5.0.2.6.
Comply with absorbent materials requirements for the packaging as specified in the applicable packing instructions.
If packing liquids, comply with the pressure differential requirement of Subparagraph 5.0.2.9.
Contact me with any questions you may have about the transportation of hazardous materials by air, highway, vessel, or rail
International and Domestic
Daniels Training Services
815.821.1550
So that's everything, right?  Well, no.  The fact of the matter is that the Shipper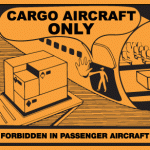 responsibilities in the IATA Dangerous Goods Regulations are long and complicated – but can be understood and complied with if you know your responsibilities.  This list is just the beginning.  To know all of your responsibilities as a Shipper of dangerous goods by air and to comply with Subsection 1.5 for training your personnel, contact me to schedule your IATA Dangerous Goods Training.