Here is a question I received almost a year ago on December 17, 2015 from a person who found me while searching the internet for an answer to his questions: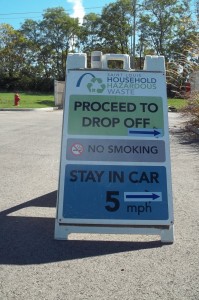 Daniel, hope this finds you well.  Could you give me your opinion on waste disposal companies using ORM-D for Household Hazardous Waste (HHW) shipping names (e.g. flammable paint, cleaners that may have low or high pH and others that may fit into DOT respective hazard classes).  I am concerned as the material is no longer packaged according to the original  ORM-D packaging.  Are you familiar with any US DOT interpretation that would allow that those shipping names continue to be used?  My concern comes from reviewing a waste disposal company that is still using ORM-D shipping names.  Thanks for input and thoughts.  Wish you a Merry Christmas, Thanks.
Well, it took me a few days.  But just before Christmas (12.22.15), I replied:
I apologize for my delay in replying to your question.  I'll do my best to answer it below.
Waste collected from households is excluded from regulation as a hazardous waste at 40 CFR 261.4(b)(1).  See this short presentation for more information:  The Household Hazardous Waste Exclusion.
Due to the HHW exclusion, the waste does not require a Uniform Hazardous Waste Manifest when transported or offered for transportation by the Shipper/Generator.
USDOT/PHMSA regulations define a hazardous waste as a waste that requires the Uniform Hazardous Waste Manifest when transported.  Therefore, excluded HHW is not a hazardous waste per USDOT/PHMSA regulations.
As you describe, the excluded HHW may be a USDOT/PHMSA hazardous material for other reasons, e.g. Class 3 Flammable, Class 8 Corrosive, &etc.
Hazardous materials that meet the requirements of the Consumer Commodity exception may be re-classified as an ORM-D and shipped accordingly.  Read more about the Consumer Commodity Exception in this short article.
Use of the Consumer Commodity Exception for an excluded HHW does require compliance with specified packing instructions but it does not require the original packaging.
In sum, if the Shipper/Generator is complying with the HHW exclusion and the Consumer Commodity Exception, then they should be able to ship the waste as a Consumer Commodity.
 I hope this helps.  Please don't hesitate to contact me with any other questions.