The Bullet:
The Oregon Department of Environmental Quality (OR DEQ) has fined W.R. Grace & Co. $6,600 for illegally transporting hazardous waste to its Albany facility.
Who:
W.R. Grace and Company is an American chemical conglomerate based in Columbia, Maryland. Grace is divided into three business segments—Grace Catalysts Technologies, Grace Materials Technologies, and Grace Construction Products. Wikipedia
The Oregon Department of Environmental Quality is the chief regulatory agency of the government of the U.S. state of Oregon responsible for protecting and enhancing the state's natural resources and managing sanitary and toxic waste disposal. Wikipedia
Daniels Training Services
815.821.1550
What:
The Oregon DEQ alleges that on June 10, 2015, W.R. Grace directed a hazardous waste transporter to transport hazardous waste from its warehouse in Portland, OR to its facility in Albany, OR.  The company didn't prepare a uniform hazardous waste manifest as required by Federal USEPA (and USDOT) and state OR DEQ regulations for the transportation of hazardous waste in commerce.  The uniform hazardous waste manifest is a document that tracks a hazardous waste from "cradle-to-grave", i.e. from the physical location of its initial generation and accumulation, through all phases of transportation – and transporters – to its destination.
Further, the W.R. Grace Albany facility is not a permitted Treatment, Storage or Disposal Facility (TSDF) of hazardous waste.  It is a violation for a generator of hazardous waste to arrange for the transport of a hazardous waste to any facility other than a permitted hazardous waste TSDF.
W.R. Grace & Co. was also cited for violating an emergency preparedness requirement by failing to maintain adequate aisle space to allow access for emergency personnel and equipment. That citation did not carry a fine.  Read more about the requirement to provide aisle space for emergency response.
Where:
The two W.R. Grace facilities involved in this alleged violation are located in Portland, OR and Albany, OR.
When:
The date of the alleged violation was June 10, 2015.
The company had until April 28 to appeal the penalty with the Oregon DEQ.
Why:
A generator of a waste – any waste not just a hazardous waste – is responsible for its "cradle-to-grave" management.  This includes its management at the point of generation, how and by whom it is transported, and to where it is transported for treatment, storage or disposal.
There are steps every hazardous waste generator should take to ensure proper "cradle-to-grave" management of its hazardous waste.  Read:  What's a Hazardous Waste Generator to do About Cradle-to-Grave Management of its Hazardous Waste?
Federal and state agencies – in this case the Oregon DEQ – are authorized to enforce the regulations applicable to generators and transporters of hazardous waste and the hazardous waste TSDFs.
How:
The state of Oregon's hazardous waste program is authorized by the USEPA as allowed by the Resource Conservation and Recovery Act (RCRA) of 1976.  This means that the OR DEQ is the primary management and enforcement agency for the RCRA regulations in Oregon.  OR DEQ is allowed to adopt the Federal regulations as written, revise them to fit its own needs, and make them more strict as it desires.  The one thing OR DEQ cannot do is make its version of the RCRA regulations less strict or less broad than those of the USEPA.  Therefore it is the responsibility of the OR DEQ to ensure the proper "cradle-to-grave" management of hazardous waste (and universal waste, used oil, and non-hazardous waste) within the state of Oregon.
Conclusion:
Though not mentioned in the news release, I presume the W.R. Grace facility to be either a Large Quantity Generator (LQG) or Small Quantity Generator (SQG) of hazardous waste and not a Conditionally Exempt Generator (CEG).
Though - as of this writing - USEPA and most state regulations refer to the smallest hazardous waste generator status as a Conditionally Exempt Small Quantity Generator (CESQG), the state of Oregon uses the term Conditionally Exempt Generator (CEG).
My suspicion was confirmed by a quick search on the USEPA's website:  Enforcement and Compliance History Online (ECHO).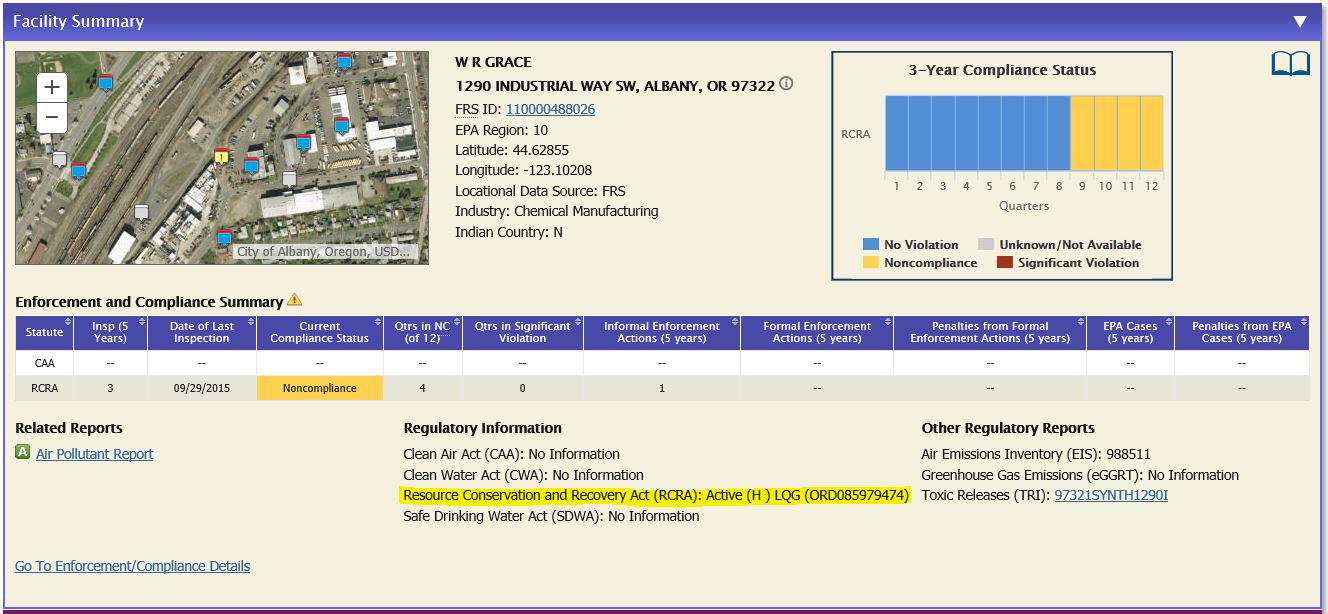 Why did I presume LQG or SQG?  Simply because a Conditionally Exempt Generator is not required to use the uniform hazardous waste manifest, is not required to use a hazardous waste transporter, is not required to utilize a hazardous waste TSDF for the final destination of its waste and is not subject to the Emergency Preparedness and Prevention regulations of 40 CFR 265, Subpart C.
Not sure of your hazardous waste generator status?
A simple oversight:  arranging for the transport of a hazardous waste without the proper paperwork, results in serious fines for another company.  You can avoid these fines and meet the regulatory training requirements of the USDOT for HazMat Employees and those of the USEPA (and your state) for Hazardous Waste Personnel by contracting for my Onsite Training or Web-Based Training.
Daniels Training Services
815.821.1550
More Information:
View the enforcement letter: https://www.oregon.gov/deq/nr/042016graceE.pdf
To view the full news release visit http://www.oregon.gov/newsroom/Pages/NewsDetail.aspx?newsid=1079.
Contact:
Sarah Wheeler, Environmental Law Specialist, Portland, 503-229-6927,wheeler.sarah@deq.state.or.us
Susan Shewczyk, Hazardous Waste Compliance Inspector, Salem, 503- 378-5310,