The Bullet:
Police made a second arrest in the illegal dumping of approximately 125 gallons of waste oil in the city of Schenectady, NY following the public's assistance in identifying the suspect.
Who:
New York Department of Environmental Conservation (NY DEC).
Joseph Alleyne, of Schenectady, known locally as "Green Eyes," on Wolf Rd. in Colonie, NY.
58-year-old Linwood Gholson, of Schenectady, NY.
What:
Linwood Gholson and Joseph Alleyne were arrested separately for dumping waste oil into a storm drain.
Alleyne is facing charges that include felony level endangering public health, safety and the environment under the New York State's Environmental Conservation Law.
Linwood Gholson was charged with felony release to the environment and aggravated unlicensed operation of a motor vehicle and operating a motor vehicle with a suspended registration.
When:
July 10, 2015:  Arrest of Linwood Gholson.
July 24, 2015:  Arrest of Joseph Alleyne.
July 29, 2015:  Announcement by NY DEC.
Where: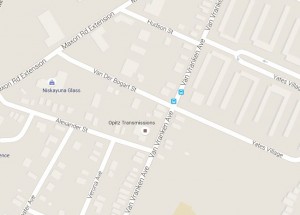 The oil was dumped into a storm drain on Van Bogart St. (Van Der Bogart Street) in Schenectady, NY.
 Why:
DEC Regional Director Goertz said,
DEC will not tolerate illegal dumping of any kind and we appreciate the public's assistance in this case.
How:
The New York State Department of Environmental Conservation (NY DEC) is authorized by the Environmental Protection Agency (EPA) to administer the hazardous waste program in New York state.  This includes enforcing state environmental regulations that must be at least as strict as those of the EPA.  If NY DEC did not administer its program in a manner at least as stringent and as broad as the Federal program it would run the risk of losing its authorization.
Read:  Authorization of State Hazardous Waste Programs Under RCRA
Local news coverage resulted in multiple tips which led to the arrest of Joseph Alleyne.
Thanks to leads from the public, DEC Environmental Conservation Officers and their partners in local law enforcement identified, located and arrested the suspect.
Summary:
Activities such as this used to be common, even acceptable.  But no more.  Too many people are aware of the damage done to the environment by illegal disposal activities to allow such behavior to go unnoticed or unreported.  In this case, the public provided information to make the second arrest possible.
No one wants their name or their company's name tarnished in this way.  Make certain that everyone at your company knows the regulations of NY DEC and EPA for the management of wastes, and those of the US Department of Transportation for the transportation of hazardous materials.  In any situation, training for your HazMat Employees and Hazardous Waste Personnel will be a benefit to you and your employees.
Daniels Training Services
815.821.1550
Contact me if you have any questions about your regulatory compliance.