What free stuff is available from the US EPA?
While not as slick as some of the guidance documents provided by the PHMSA regarding the shipment of hazardous materials, the US EPA has attempted to provide guidance to many different persons:  federal and state regulators, the regulated community, organizations, associations, and even consumers who are interested in environmental laws and regulations and their implementation.
There are three concerns that you must take into account – as I do – whenever you use these materials:
These are guidance documents only and are not meant to be a replacement for the regulations.  Your compliance depends upon your adherance to the regulations of the US EPA or your State, if it has an approved Hazardous Waste Program.
If your State has authorization from the US EPA to manage its own Hazardous Waste Program, then it is the regulations of your State with which you must comply.
In many cases, and these are indicated on the US EPA website, these documents have not been updated for several years.
Definition of Solid Waste Decision Tool (DSW Decision Tool v2)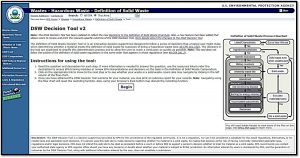 The Definition of Solid Waste Decision Tool (DSW Decision Tool v2) is an interactive decision support tool designed to follow a series of decisions that a typical user might make when determining whether a material meets the definition of solid waste for purposes of being a hazardous waste.  When completed you may print a copy of the decision flow chart to use as documentation of your Hazardous Waste Determination.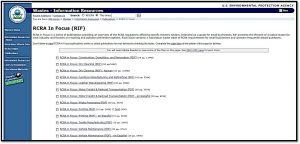 RCRA in Focus: If you are one of the industries US EPA 'focused' on, then you're in luck!  These documents available for download or order through the mail contain a description of waste lifecycles, recycling and pollution prevention options, and answers to frequently asked questions.