The Ozarks Materials Exchange (OME) is a free online materials exchange service that enables businesses, nonprofit organizations, government agencies, and artists to create and search online listings of Available and Wanted materials. It works to connect generators or users of difficult to match materials with counterparts who need or have materials.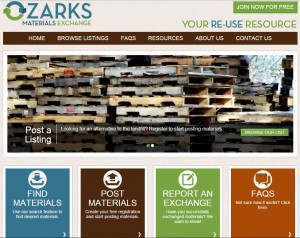 Acceptable materials for exchange:
Brown goods and accessories
Chemicals
Construction and demolition
Drums
Fluorescent lights
Glass
Liquid waste
Metals
Miscellaneous
Motor vehicle items
Organic waste
Paper
Plastics
Rubber
Textiles
Tires
White goods
Wood
Got it? Looking for it? Find it on the Ozarks Materials Exchange at ReuseOzarks.org
The OME does not buy, sell, store, or transport materials.
For more information: 417.864.2003