Like all hazardous material packagings, propane cylinders must be designed, manufactured, and tested to meet the specifications codified at 49 CFR 178.  Propane cylinders must also be requalified at periodic intervals to ensure they remain safe for use.  Unfortunately, all to often private citizens & businesses will use propane cylinders that have exceeded their requalification date.  Catastrophic failure of out-of-date propane cylinders has resulted in property damage, personal injury, and death.  Since propane cylinders must be marked to indicate their qualification status, it is easy to determine if your propane cylinders are safe for use.  To determine the qualification status of your propane cylinders, look for these markings on the cylinder:
A:  Manufacturing Date
Cylinders must be requalified within twelve (12) years of manufacture (by May 2017 in the illustration below).
B:  Requalification Date
If the cylinder is older than twelve (12) years, look for a "requalification date".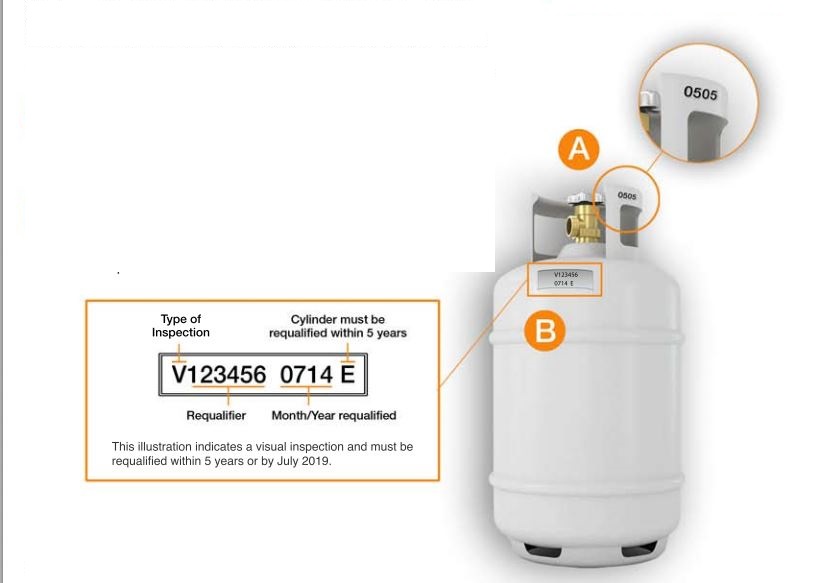 If you ship, receive, or transport propane – or any other hazardous material – you must provide training every three years for your HazMat Employees.  Contact me for a free training consultation.
Contact me with any questions you may have about the transportation of hazardous materials by air, highway, vessel, or rail
International and Domestic
Daniels Training Services
815.821.1550
Refer to this guidance document from the PHMSA (English and Spanish).